Hoo Are You?
I'm linking up with
Night Owl Crafting
for this week's edition of Hoo Are You? Her blog is so cute.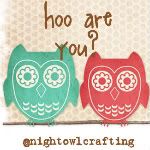 1. Do you like to listen to Christmas music?
Oh yes! I love it.
2. Are you one of those people who get all their shopping done early, or do you do most of it in December?
I always say I'm going to get it done early but never do.
3. Do you set a budget on how much you spend on each person?
I try to but it never works. I always go over the limit.
4. Do you send out Christmas cards?
Sometimes but with the Shutterfly deal I will be sending out 50 free ones this year!



5. Do you enjoy this holiday season or does it stress you out?




I try to enjoy it the most I can but sometimes I get stressed out trying to find the perfect gift.



Go link up!
Labels: Hoo are you?